That's a wrap!
What a season?! I think the key descriptor for the season is "abundant"; lots of trends to touch on, large collections and voluminous silhouettes across all categories. With so many themes coming through I can understand it would be difficult to find the strongest trends to include in your collection next year. I have narrowed it down to commercially adaptable details and themes that can easily support your brand's aesthetic for Fall 2020, relevant to the Australian market.
Once again all thanks to vogue.com.
KEY COLOUR - Tonal outfitting of yellow browns and various shades of beige dominated. Beige, also being a very popular colour for outerwear, many designers reinventing the classic, beige full length coat. Earthy colour palettes are still key with rust and khaki greens coming through. In total contrast, highly saturated bright colours were also seen in the mix amongst the likes of Gucci, Prabal Gurung and also Tory Burch in more subtle ways. Tan leather apparel and/or accessories fit in this category to assist with styling and making up the entire look.
KEY ITEM - Capes were seen across all of the cities with Marc Jacobs' collection of tailored capes showing off the trend in it's finest form. See them all here. Both Chloe` and Max Mara transformed typically coat like openings, pockets and collars, into warm, heavy woollen capes. Ellie Tahari featured a number of cape and poncho like styles in her 70's inspired collection; from the more tailored, peacoat, croc embossed short cape to the fluid cream zip up poncho with black leather trim. Less structured, sports style capes with zip openings and contrast trims take a more casual approach to the trend and could be a great option for a lower price point item. Also, potentially more suitable for the mild,cooler seasons here in Australia. Knit poncho styles were also showing nodding to the modern nomad, trans-cultural trend that engages with clothing becoming more relaxed and comfortable. Many designers featured cape like styles within their collections, too many to highlight here. For more capes check out Valentino, JW Anderson, Beautiful People, Miu Miu and Celine just to name a few.
KEY DETAIL - Plisse (or pleats) were seen across a number of fabrics from light weight silks through to washed denim shown here from Christian Dior. At Givenchy, fine, plisse dresses with curly hem lines were ornately decorated in rendered floral prints, the texture of the fabric adding further dimension to the print design. Marco de Vincenzo created a number of disco inspired, plisse items in luminescent fabric that twinkled with movement. For traditional hand pleating right here in Melbourne, visit Speciality Pleaters in Williamstown. Featured in Broadsheet last year expressing concerns for the dying craft Simon Zdraveski is desperately trying to keep it alive.
KEY FABRIC - Spotted heavily in menswear for AW collections also, corduroy is the perfect way to add a little 70's flare to your collection. The fabric was seen in jump suits with puffy sleeves and full,high waisted pants at Ulla Johnson with a more elevated finish in rich jewel colours. Seen also in more casual basic,denim style pants with the occasional matching jacket.
KEY PRINT - Highly saturated, bold colour florals often on a dark ground added some freshness to the earthy tones of the AW season. Use digital printing to get the best effect and make the most of the use of colour. Dresses, pants and skirts carried the print easily however some statement outerwear could pick up dark based designs with less floral cover too.
BILLOWING SLEEVES - KNITWEAR
KEY KNITWEAR - The voluminous trend has appeared also in knits with mutton sleeves accompanied at times with ruffles. A feminine update to winning knit styles again touching on the 70's look we keep seeing coming through.
Oversized, flared, mutton and more - Givenchy
Emphasis on the shoulders in dresses and coats - Louis Vuitton
Strong focus on high necks and scarves across knits, shirts and dresses - Longchamp
The strongest pattern by far, too obvious to mention, knits, dresses, skirts, coats, capes, pants, shoes and accessories (everywhere!) - Blumarine
Coats, jackets, skirts, shirts (also seen in yellow and green) - Christian Dior
Outerwear, shoes and accessories - Tod's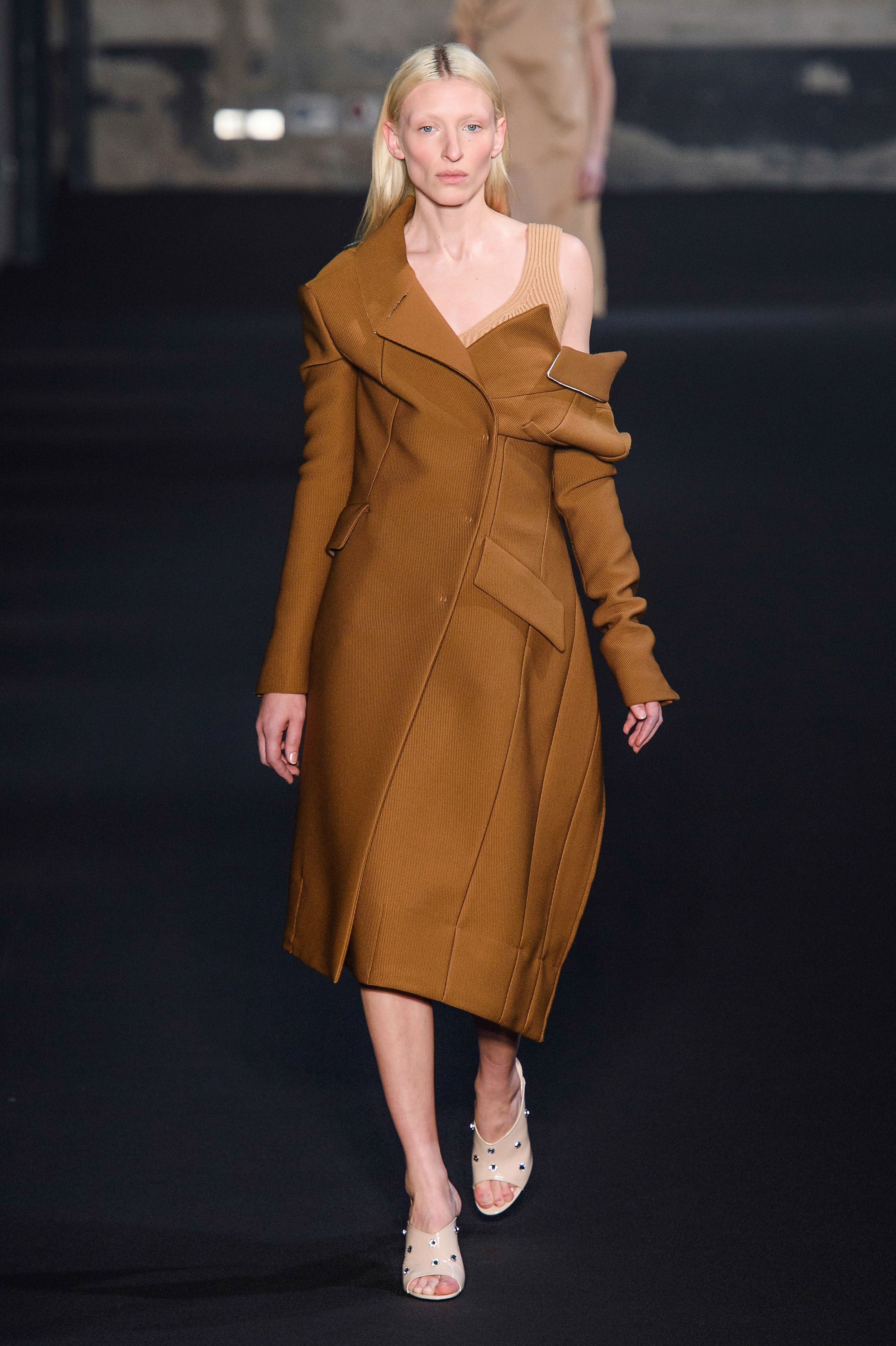 Coats and pinafore style dresses - No.21
Paper Bag or Stovepipe pant
Casual and tailored - Zimmermann
If you'd like to have this kind of thing show up in your inbox to keep you up to date once or twice a month be sure to join our mail list. #getcreative